Most of us know how daunting buying a new vehicle can be.  It's even more overwhelming than choosing a car seat!  Something that often gets overlooked is how compatible the vehicle is with car seats, both in general and with your specific car seats.  Every car and every car seat is different…leaving possibly thousands of combinations and potential compatibility issues.  I can't tell you how many times I've heard of a parent coming home with their new car being so excited…only to find out that one of their car seats or boosters doesn't fit in the position they want it to.  So they are left with less than ideal choices of switching seating positions or buying new car seats.  It's not the end of the world, of course, but you can make your life a lot easier if you try to factor these things in before you drive off the lot.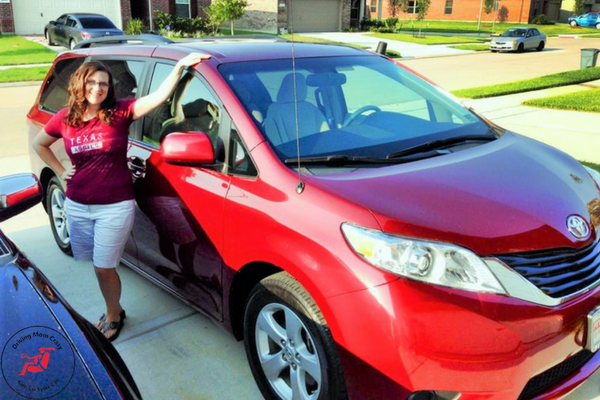 1. Know The Location of Lower Anchors and Tethers (LATCH)
This is a really important factor to consider.  Vehicles are only required to have a minimal number of lower anchors and tether anchors and they are not necessarily going to be in every seat.  You may not realize that they are not available in the seat you would normally put your child in.  You can do research ahead of time by accessing the owner's manual online to find out where the hardware is located.  When you look at the car in person, find out if the lower anchors are easy to find and access.
While you can always install with a locking seatbelt instead of lower anchors, if you child is forward-facing, not having a tether anchor is a big problem.  Tether anchors limit your child's forward head movement in a crash, sometimes up to six inches.  That can mean the difference of whether your child hits their head on the seat in front of them, which is a big factor in head injuries.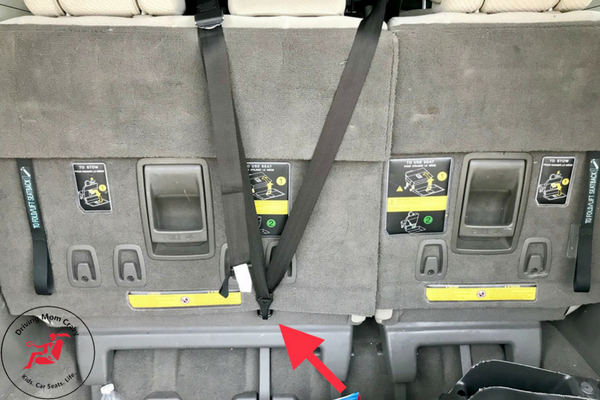 Don't forget to think about how things may change as your children grow.  What works now may not be feasible when they transition into the next phase.  Make sure there are enough headrests for older children after they graduate to backless boosters or seatbelts only.  While you cannot anticipate every future situation, it can be helpful to be mindful of things like school drop-offs, carpooling, and easy access to a new baby.
Helpful LATCH Resources:
LATCH locations in vehicles with 3 rows
LATCH Ease-of-Use ratings for vehicles
Why a tether is so important:  Tether vs. No Tether
2. Recognize Which Seating Positions are Incompatible With Car Seats
Some vehicle manufacturers have issues with middle seats.  These seats can be too narrow to actually use in real life.  There is no way a car seat or a normal sized person could fit in that tiny middle space.  So when a car salesman tells you that you small SUV seats five people, take a peek in the back seat to see if that's really true.  Because it may really only be useable for four.  The same principle applies to poorly placed seatbelts.  In some narrow vehicles the seatbelts overlap with each other, making them unsafe to use with a child restraint.
Even if your car really can fit five people (or whatever number you're looking at), the width of your car seat may render other seats unusable after it's installed.  I have a car where the lower anchors are off-center, which means that when it is installed in that location, it actually takes up part of the middle seat and part of the back passenger seat.  It is a strange quirk that I had no idea about before I bought it.  Luckily it was still fine since we only had one child at the time, but if we had more it would have been an issue.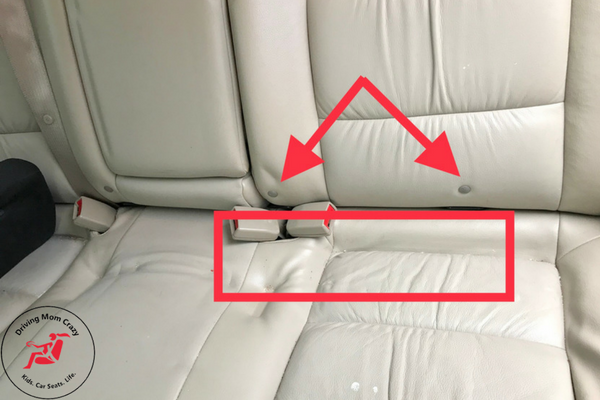 A newer feature making waves is inflatable seatbelts.  This innovative safety feature is in many newer Ford vehicles, but not all car seat manufacturers permit installation with them.  Even if you currently use lower anchors, eventually your child will be too heavy for LATCH and you'll be forced to use the seat belt.  You need to check with your car seat manufacturer to ensure you can install it with these seatbelts.  This list is a good starting place to find out where to find each manufacturer's policy (note:  policies are updated very frequently.  Go directly to the manufacturer's website for current information).
3. Determine if Installing Your Car Seat Will Become Easier or More Difficult
This is where you get into the details.  Ask yourself things like:
Do the lower anchors and tether look easy to access?  Can I reach them easily?
Are there any awkward seatbelt angles that will make installation difficult?
How much space is there between each vehicle row?  Will a rear facing car seat have enough room?
How are the seats angled?  Deeper seats can make getting a certain recline angle harder.
What do the headrests look like?  Will they interfere with installing my forward facing seat?  Can they be removed?
Even something as small as having leather seats can have a big impact on getting your car seat installed tight enough.  There have been times where I have had to spend well over thirty minutes (with multiple people helping) to place enough pressure on the car seat and get enough leverage with the seatbelt in order to get an adequately tight installation in a car with leather seats.  They can be quite tricky.
On the other hand, if your new car has more spacious seating or hardware that is easier to access, you might be faced with a delightfully easier installation process.  That is the result we want!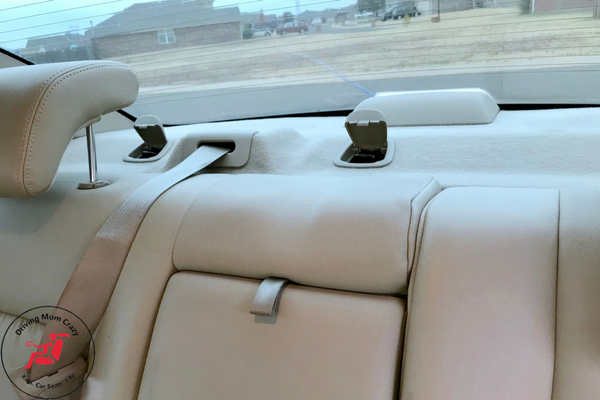 Final Thoughts
When you consider how many times throughout your child's life that you may need to remove and reinstall their car seat (every time they barf, for instance), it's definitely worth making the process as easy on yourself as possible.  I recommend trying out your car seats on your potential new car to see how you like it.  They may work great.  Or, they may not.  And that could either be a deal-breaker–or not.  You may decide it's still worth it to get this new car even if your current car seats don't fit well, and you opt to buy new seats.  Either way, you'll be dealing with less stress because you know in advance what you're going to be dealing with.  And hey–maybe that could even be a negotiation tactic to get the price reduced if you know you'll need to buy new car seats.  Every little bit helps, right? 🙂
What did you wish you knew before you bought your last car?  Share your tips in the comments!